According to the National Safety Council, more than 25,000 people slip, trip or fall every day. In fact, the U.S Department of Labor reports that slips, trips and falls account for 25% of all reported injury claims and 15% of all accidental deaths each year (second only to automotive accidents). They also account for 65% of all lost work days.
Slips occur when there is too little friction or traction between your footwear and the surface you're walking on. This can be caused by wet or oily surfaces, occasional spills or weather hazards such as rain or sleet. It can also be caused by loose rugs or mats or flooring with different degrees of traction.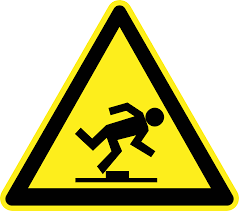 Trips happen when your foot collides with or strikes an object causing you to lose balance. Obstructed view, poor lighting, uneven walking surface and clutter are just some of the things that can cause you to trip.
Falls occur when you're too far off your center of balance. They can occur at the same level, such as falling to the same surface you're currently on or to a lower level, such as falling below your walking surface.
In order to prevent slips, trips and falls in your work area, here are some tips from Flex Tech to help you:
Wear Proper Footwear
Shoes play an important role in preventing slips, trips and falls. Loose shoelaces, slick soles or heels have no business in an active workplace. Only shoes with non-slip soles should be worn. And the laces should always be properly tied.
Reduce Wet or Slippery Surfaces
No matter how careful we are, wet or slippery floors can still be a hazard if you're not safe. Wet floors should be cleaned up immediately. However, if they can't be cared for right way, 'wet floor' signs should be placed in the area to warn others of the hazard. In the event of ice or snow, the area should be treated with a de-icing agent or device or possibly closed until deemed safe again. Also, moisture-absorbent mats with non-slip backing should be placed in entrance areas to collect water from employees' and customers' shoes.
Maintain Proper Visibility
Being able to see what you're doing and where you're going is very important. Adequate lighting should always be present in any workplace. When entering a dark room, turn on the lights immediately and also repair or replace any broken or damaged lighting equipment as soon as possible. Also, make sure you don't carry anything that could impede your vision or line of sight.
Avoid Creating Obstacles
Active work areas can be dangerous in their own right. So be careful not to create additional obstacles that can cause you to slip, trip or fall. Cabinets and drawers should be closed when not in use. Keep cords and hoses of the way. Watch out for wrinkled or bunched up carpet or rugs. Flatten them out if you can. And keep all work areas clean and orderly.
By following these simple tips, you can help prevent your own slips, trips and falls.