It sounds cliché, but at 18 years old, Gilbert found himself entering adulthood in a very difficult way.
"I hung out with the wrong crowd and did something dumb," he said.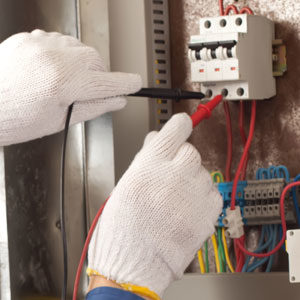 Charged with misdemeanor theft for stealing a pair of shoes from the mall and with a new baby in his life, Gilbert knew he had to change something if he was going to move forward in his life. He elected to home-school his senior year to graduate early so he could start working full-time sooner. Eventually, he took a position at Walmart and worked there for seven years until he was let go when a car accident forced him to miss a lot of time at work.
"That's when I started working third shift at Takata working on seatbelts," Gilbert said. "I was working all night. When I got home, I'd take my wife to work, sleep for a few hours, then pick up the kids from school. It was really stressful and exhausting."
In addition to his already hectic schedule, Gilbert, now 28, started attending college in the evenings, working toward an associate of applied science degree in electrical trades. He also posted his resume on Indeed.com where it was found by Jennifer Garcia, a recruiter at Flex Tech. When she looked over his resume, she invited him to the office to interview.
"Jennifer booked two interviews at the same time," said Cynthia Navarro, Flex Tech vice president. "So I interviewed Gilbert myself and was really impressed with his drive and determination. Married and with three children, he was really trying hard to make things better for himself and his family."
Gilbert was also impressed with Cynthia.
"She heard me out and didn't judge me," he said. "She told me not to worry and that she would work with me to find me a job."
Two weeks later, Cynthia called Gilbert to offer him a position as an electrician's helper And while the client that took Gilbert has their crews work 4×10 shifts from 7:00am to 7:00pm, they're allowing him to clock out at 5:00pm so he can still go to school.
"I really appreciate what Cynthia did for me," Gilbert said. "It's hard to find a job when you have no experience, but they kept trying and didn't quit."
Cynthia said this is just what they do at Flex Tech.
"This one placement took several emails, phone calls and text messages, not to mention plenty of follow-up and follow-through," she said. "And while we were placing Gilbert, we were working with other candidates at the same time. This is the life of a recruiter."
If you're interested in a low-voltage technician career in the DFW, Houston or Austin/San Antonio area, click here to check out the latest job postings from Flex Tech.