AI Technology
Artificial intelligence (AI) has arrived in the staffing industry, providing unique digital recruitment opportunities, time savings, and brand efficiency for companies of any size and scope.
What Can AI Be Used For?
Screening
Intelligent digital recruiters can source candidates from anywhere in the world.  With chat bots and other AI platforms, companies can screen candidates based on answers to their questions and determine if a candidate will be a good cultural fit within any organization and represent the company's goals and reputation.
Interviewing
There are AI platforms that work as digital recruiters.  They can schedule interviews or even conduct interviews utilizing real-time reporting and video recording technology. It enables confidential communications about strategic opportunities, eliminating possible interference from competitors.
More Highly Targeted Candidates
Artificial intelligence is already revolutionizing the hiring process because recruiters and hiring managers are able to target more qualified candidates than ever before. AI now lets them target searches by job title, industry, location, household income, salary, education, age, spending habits and more.
Utilizing an AI can conceivably save time and increase profit margins through intelligent talent management.
Methods of Communication
Staffing firms listed SMS (text) messaging as the fastest-growing communication channel in 2018, with 69 percent of firms expecting their usage to increase—especially communicating with Millennial and Generation Z candidates.
Benefits of Texting
Job Seekers Constantly Searching on Smartphone
Over 63 percent of adult smartphone users have used that device to research new jobs. Since job seekers have gone mobile, it's natural that recruiters should, as well.
The texts recruiters send out are the perfect chance to get candidates all the information they need in one place, which makes employer branding easier.
It's Easy to Answer Text Messages
A job candidate may not have the privacy they need to check their personal email throughout the day when they are still working.  Looking at text messages during work on a smartphone is a different story.  If you have questions for a potential job recruit or you want to set up an interview, you will get a quick answer by sending a question by text message.  You may have to wait until the end of the business day to get a response if the recruit is employed and you are sending out an email or scheduling a phone call.
What About Email?
People Associate Email with Spam
There's a reason why most email servers have a separate folder for spam.  Suspicious emails from unfamiliar people are looked up on as a scam, especially when asking for personal information.
Emails from traditional recruiting or staffing firms only have an open rate of 20 percent, according to a report from Mailchimp.
Text messages, however, have yet to be taken over by spam.  When people receive a text, they know there's a very good chance the message is specifically for them.  And that's why TextRecruit messages have a 100 percent open rate and so far in 2018, a 34 percent response rate.  When job seekers receive the text, they instantly see that it contains information relevant to them and their career.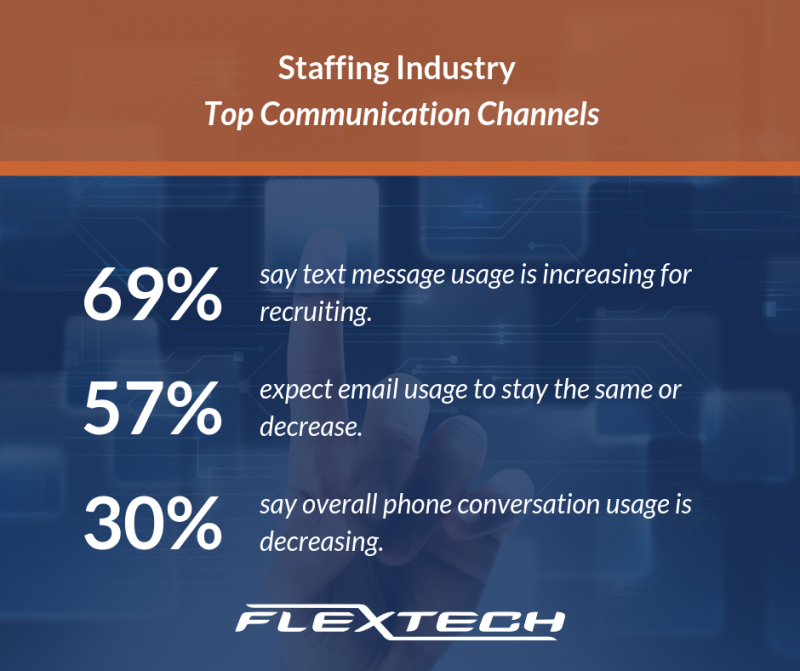 Referrals Are The Best Source of Talent
Referrals from existing candidates jumped to the top of the list of single best talent sources this year—nearly 30 percent of respondents said referrals were the absolute best source of high-quality talent.
Benefits of Referrals
Efficiency 
Employees sourced via referrals move through the pipeline 55% faster than those sourced through career sites.  In today's market, with demanding clients, tight timelines, and talent that disappears from the market in a flash, reducing your time to hire could be the difference between thriving and just surviving.
Not only are you getting hires through the door faster, but you're also getting talent that fits with your business better.
Retention
Referral candidates tend to stick around longer than non-referral candidates.  Companies with referral programs average a 46% retention rate compared to a 33% retention rate in companies that hire primarily from career sites.
This alone can also save you time knowing the candidates you hire through referrals last longer resulting in less retention.